December 2010....Unfortunately the Savannah Club has been defunct for some time now due to loss of members and interest. I am keeping the website open in hopes of getting a club back together some time in the future. I play a tournament occasionally when I can travel and I am always willing to introduce the game to new players. I guess I am in a holding pattern for now.
Jody Schaaf
The Savannah Subbuteo Club, in historic Savannah, Georgia, is a table soccer group formed in 2003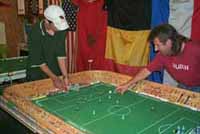 by Subbuteo veteran player and collector Mark Holloway and a small group of local soccer enthusiasts. Our club is sanctioned by the American Subbuteo Association (ASA). We hold bi-monthly club tournaments and meet for practice matches whenever possible. Former club champions are also eligible to compete in the 20 match "Champions Derby" each season. In addition to our league play matches, we also host several ASA sanctioned tournaments each season. Some members also travel to participate in ASA events in other cities and regions.

No previous soccer experience is necessary to learn and enjoy this game. We encourage anyone who is interested in participating, from beginners to experienced players alike, to join us.

Our Goals
| | |
| --- | --- |
| | To organize and encourage local play. |
| | To hold bi-monthly club tournaments and publish standings. |
| | To increase membership. |
| | To participate in regional and national events. |
Events
| | |
| --- | --- |
| | Club Tournaments |
| | ASA Sanctioned Tournaments (concurrent with the club tournaments) |
| | Champions Derby (20 matches) |
| | Monthly Standings & Results Published |
| | |